Bitcoin has become one of the most popular currencies in the modern day of today. The currency helps you to purchase products and services in the virtual world. The BlockCard is a platform that deals with cryptocurrency. It is a crypto fintech platform and is powered by Ternio. The platform helps to convert all types of cryptocurrency. With Blockcard you can convert cryptocurrency into real-world utility. The platform is useful for all users who deal with cryptocurrency and want to have more control over their money. With Blockcard you can now get an overwhelming buying experience. You will get a reward of 6.38% crypto back on every purchase you make. The more money you spend using the Blockcard, the more rewards you get.
How does Blockcard work?
The virtual Blockcard debit card is the best way to make purchases in the virtual world. You need to sign up and get started with your purchases. Signing up can be done in a few minutes, and you can start to use your debit card when your application and registration process is complete.
Cryptocurrency
To get started and use your debit card, you need to deposit your cryptocurrency to the debit card. This will fund your account and fund your cryptocurrency account, and you can start using the card instantly.
Account balance
Once you have funded your account, the cryptocurrency will be converted into TERN. The conversion into TERN helps you to make your purchases online. It becomes your purchasing power in the virtual world.
Cash
TERN can be sold and can be converted into fiat. This covers the item amount from the merchant you are dealing with.
Apple and Google Play support.
You can deposit a wide variety of cryptocurrency into your debit card and can easily convert them into dollars. You can use the debit card anywhere that accepts Apple Pay, Google Pay, and Samsung Pay.
Blockcard Debit Card
Blockcard debit card will benefit you in many ways as it helps you make your purchases easy and convenient in the virtual world. You have to sign up for the block Visa debit card, and your purchases can be made within minutes.
No Transaction Fees
Most people are concerned about the transaction fees they have to pay when using debit cards. When you are using Blockcard debit card, you don't have to pay any transaction fees. Blockcard doesn't charge you any fees for exchanges and deposits as well. You have to pay one flat monthly rate before using the card, and there are no additional fees. For most users, this fee is waived when you use your Blockcard.
What does it cost?
Blockcard is offering four types of debit cards, and you can choose the one that suits your needs. The following are the prices of the blockcard debit cards that you can use to make your purchases.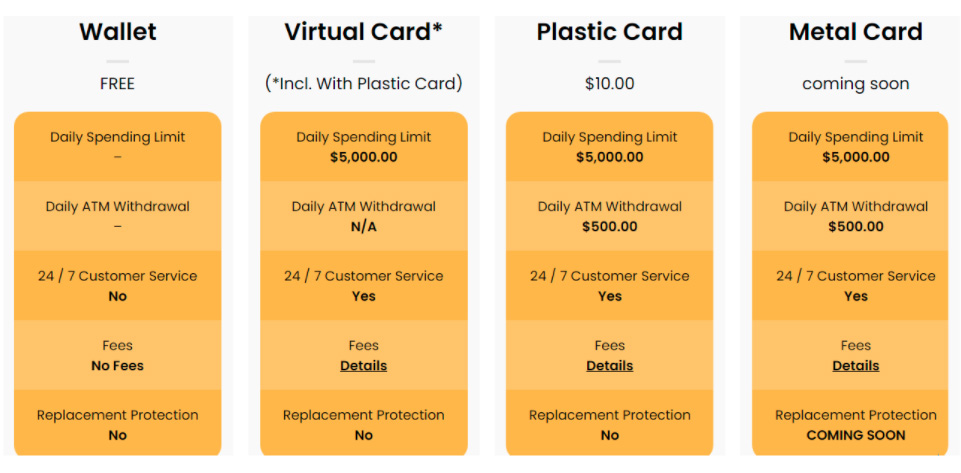 The Power of Blockcard in your Pocket
With Blockcard you can make purchases anywhere and everywhere. The card helps you to send crypto to anyone with your blockcard username or email address. The cryptocurrency stays in the form of crypto until your transaction is made and executed. No blockcard account is needed to receive crypto and anyone can receive it.
Buy Bitcoin & Other Cryptocurrency
You can buy Bitcoin & other cryptocurrency fast and easy with the near-instant settlement and self custody. There is good news for all the Blockcard account holders as they now can Buy Bitcoin using their original bank accounts. You will not have to face any hassles as the process is quick and easy. Many other platforms make you wait for weeks, and even more, purchasing bitcoins becomes a challenging task. Blockcard offers near-instant settlements, and the Bitcoin purchases will directly go to your custodial wallet. The blockcard platform gives all the users an option to purchase bitcoins through a crypto friendly bank account. Whether it is Wire, ACH, or credit card, now we will look at some easy ways to buy bitcoins.
Open your bank account
You can easily open your Blockcard bank account by providing your personal information. It is easy to sign up for free and choose a password for your account. Your bank account will be instantly ready. Within a few minutes, you can register for the blockcard bank account. You will have to add funds, KYC, and get a virtual card that can be used anywhere to purchase the bitcoins. It is compatible with all the major credit cards and no-cost regarding registry either.
Deposit funds
You need to deposit some funds into the account so it can start working. However, you will have to wait for some time for the funds to settle in. Currently, Blockcard supports more than 13 currencies, and there are more than the way. You will get a token on the Blockcard, and the best thing is that it is instantly supported everywhere where regular credit cards are accepted. Your digital asset will be directly sent to the blockcard dashboard. It will also enable your supporters to fund their Blockcard accounts using your digital investment.
No listing fees
Blockcard requires no instant fees, but they only ask to support the community of the coin. You will have to request for the token to be added. There are different members in the community that have to register and fund the Blockcard account. They will ask for such details so they can know if the community is using Blockcard or not. The accounts that aren't financed will not count. However, funds can be withdrawn by the users anytime they want to. It is much better than a regular cryptocurrency exchange. It offers additional utility outside your platform very efficiently.
Set amount and destination
You need to select the amount of BTC you want to purchase and enter the destination wallet. It will not take weeks or more to get done with the process that usually happens with other exchange systems.
Transfer complete
Blockcard will find one of the best rates, and it will be directly sent to your personal or self custodial wallet. They usually aggregate purchases across multiple platforms, so Blockcard has some of the best offers. They will work hard and give the users the best of experiences without any hassles.