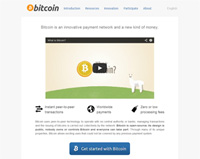 Get started with Bitcoin.
Bitcoin.org is dedicated to help Bitcoin to develop in a sustainable way.
Bitcoin.org is the original domain name used with the first Bitcoin website. It was registered and is still managed by Bitcoin core developers and by additional community members, with the input of Bitcoin communities. Bitcoin.org is not an official website. Just like nobody owns the email technology, nobody owns the Bitcoin network. As such, nobody can speak with authority in the name of Bitcoin.