Recently, investing into cryptocurrencies has gone mainstream. Buying and selling crypto is like buying and selling currency, except crypto is a digital currency. Many believe that investing in crypto is a gamble because there is no guarantee of gaining a profit and there is such a high level of uncertainty. Sounds like gambling, huh? So, why take a gamble on crypto when you could invest in the gaming industry?
The Gaming Industry is Climbing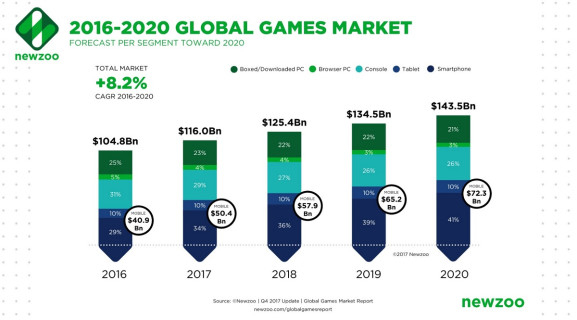 Global gaming is reaching new heights, expecting to gross $143B in 2020. (Photo by Newzoo, Licensed under Public Domain)
The gaming industry, with approximately 2.2 billion gamers worldwide, is a multibillion-dollar industry that's steadily on the rise. Studies show that global gaming, which consists of mobile, online and video games, is expected to hit $143 billion in revenue by 2020. It is expected that mobile gaming alone will represent more than half of the total games market. The growth is likely in part the result of the gaming industry making their services available and accessible no matter where you are in the world. A recent study shows that the number of bets placed on mobile devices is said to hit $100 billion, with a whopping 164 million people using their smartphones to visit mobile casinos, place bets and purchase lottery tickets.
The eSports genre, which is a form of competition using video games, is also on the rise. Most commonly, eSports take the form of organized, multiplayer video game competitions, particularly between professional players. According to research, the next couple of years will be crucial to how fast competitive gaming grows into a multibillion-dollar business.
UK Gaming Industry is Partly Responsible for Global Growth
The U.K. gaming industry is one of Europe's largest market and the fifth largest in the world. Approximately 32.4 million people in the U.K. play games, triggering the interest of many gambling giants. Just last year, the British gambling group GVC acquired bookmaker Ladbrokes Coral for $5.3 billion. Ladbrokes Coral made over $11 million in revenue in 2016 strictly from gaming machines.
Online gaming in the UK is on the rise
One of the main areas of expansion in the U.K. gaming sector has been the increasing popularity of online games. The number of bingo sites available provides more ways for players to engage in the gaming world in a relaxing manner. The variety of fun games, particularly in the casino niche, allow for customers to have a choice in what they'd like to play. Online games are also on the rise because it's made it easily accessible for people who otherwise wouldn't feel comfortable going to a casino or bingo hall to play.
Why is the UK gaming industry growing so fast?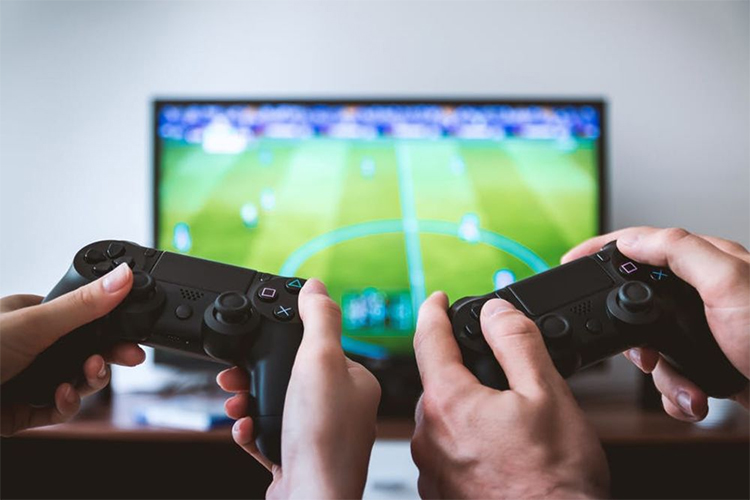 Video games are one reason the U.K. gaming industry is huge! (Photo by Pexels, Licensed under CC0)
Video games is one reason that the gaming industry in U.K. is booming. It is estimated that around half of the U.K. population enjoy the excitement and thrill of engaging in video games, whether it is mobile, online or on a console. Since new console sales were down in 2016, the rise of mobile and online gaming hugely made up for it. With more titles steadily being released, and gaming events becoming more common, this sector in the U.K. gaming industry will continue to do well.
Another reason for the rapid growth of the U.K. gaming industry is that it's ever changing and strives to make continuous efforts to improve and reinvent itself. One of the ways that it accomplishes this is by offering loyalty programs to its gamers.
A company that understands this concept extremely well is 888 Holdings which fuels the change in the U.K. casino industry. For example, their loyalty program is a very attractive incentive for online bingo players. Bingo has been a part of the U.K. culture for a long time, with over three million bingo players now. 888 offers its players rewards that can be spent in an online shop, in addition to bonuses, free spins and even vouchers to player's favorite stores. Gift giving and rewards are a sure way of attracting more customers, and it seems the U.K. gaming industry has mastered this.
Why should you invest in the gaming industry?
The gaming industry's revenue is projected to hit a staggering $230 billion by 2022, and that is expected to continue to grow with record investment. The total amount of investments made in the past year's game initiatives exceeded $2 billion dollars. The most investments involved gaming technologies and mobile games. In short, investing in the gaming industry would be a chess move.
Gambling in cryptocurrency when there's no guarantee that you will see a profit is probably not the smartest move. Don't play with your hard-earned money; instead, put it toward a billion-dollar industry that is on the rise. Getting into the gaming industry would be an investment that you're guaranteed to see a return on. Sure, right now, Bitcoin and cryptocurrencies are all the rage; however, most people believe it is only a bubble, and that's something not worth risking.