London, UK – September 22, 2017. A global platform for cryptocurrency exchange announced that they produced the new App for gadgets based on Android system (version 4.1 and later), now it is available on Google Play.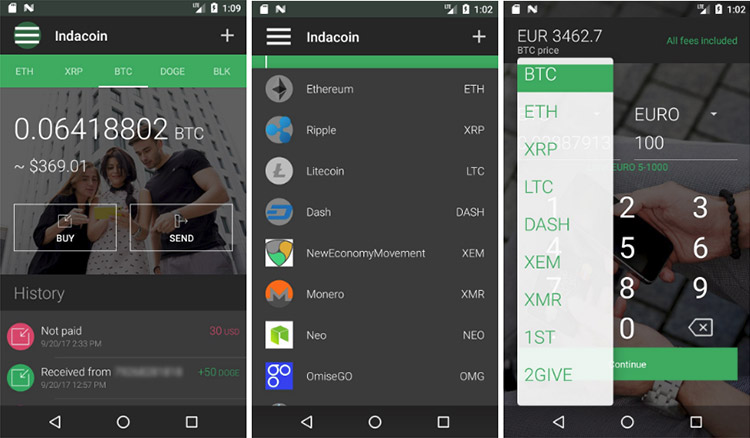 The new Indacoin App solves multi-wallet problem. User doesn't have to mix many different wallets to track, to store and to invest in digital currencies, s/he can manage virtual assets in one place, using only one App. All cryptocurrencies are displayed in a single wallet to provide a wide view on the financial portfolio of the holder. With the fact that Indacoin enables clients to buy not just the most famous cryptocurrencies: Bitcoin and Ethereum, but more than 200 other altcoins (Litecoin, Ripple, Dash, IOTA etc.), it makes this App the first of its kind, what leads to a more complete experience of dealing with the market of cryptocurrencies.
In contrast to the majority of other exchange platforms, on Indacoin altcoins can be purchased by Credit or Debit cards, that significantly simplifies the whole process of buying digital assets. Moreover, in spite of the currency of the card account, user has a chance to choose how to pay: with euro, U.S. dollars or russian rubles.
Indacoin also simplified the process of cryptocurrency transfer to the relatives and friends to the maximum extent possible. From now on it is possible to send every altcoin, having information only about phone number of a recipient. Thus, cryptocurrency is put on the indicated number, and in case if counterparty still doesn't have Indacoin mobile wallet, money will be tied with a new account and will be available after registration in the App.
About Indacoin: Indacoin is an international platform for buying cryptocurrencies based in London, UK. The service allows its customers to carry out transactions instantly and anonymously, without registration. The company was founded in 2013 and since then successfully operates in 100+ countries including Canada, Great Britain, Germany, Russia, Spain, Brazil, Singapore, Turkey, Nigeria, etc.
For more information please contact:
This email address is being protected from spambots. You need JavaScript enabled to view it.