One of a kind in the crypto-currency landscape, Bitcoin-ScratchTicket.com offers an exciting yet provably fair game for all BTC aficionados. It stands out from other BTC games of chance such as Dice, Lotteries and traditional Casino games by offering a familiar experience with eye-catching graphics and player defined multilevel rewards.
Bitcoin Contests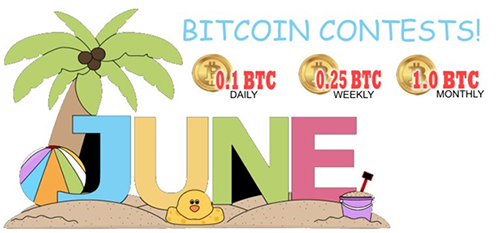 Bitcoin-ScratchTicket has today the largest rewards program of the BTC community. Top 10 players are featured on a leaderboard where they compete to win an impressive 5 BTC giveaway during one month as follows:
Daily Bitcoin Giveaway: Every day in the month of June, we will give BTC0.1 BTC to the player that bets the most that day.
Weekly Bitcoin Giveaway: Each week during the month of June, we will give BTC0.25 BTC to the player that bets the most that week.
Monthly Bitcoin Giveaway: At the end of June, we will give BTC1.0 BTC to the player who bet the most during the month of June.
Provably Fair Odds
Users have 5 provably fair games to choose from, with payouts up to 23X. Every scratch ticket could be a winner!
Bitcoin Syndication Programs
Bitcoin-ScratchTicket.com goes beyond the gaming experience by empowering users to earn 0.001*(Bitcoins Bet) when referring players to the site. Moreover, webmasters can benefit from the attractive Syndicate Partner Program, where they can earn 20% of any bet placed by players referred through the white-label artworks hosted on their sites.
Benefits of Bitcoin Gambling
Bitcoins make gambling more convenient by providing zero transaction costs and anonymity to bet off the radar. This decentralised digital currency has been widely adopted cross-boundaries, and users enjoy an increasing offer of entertainment options, including now, scratch tickets!